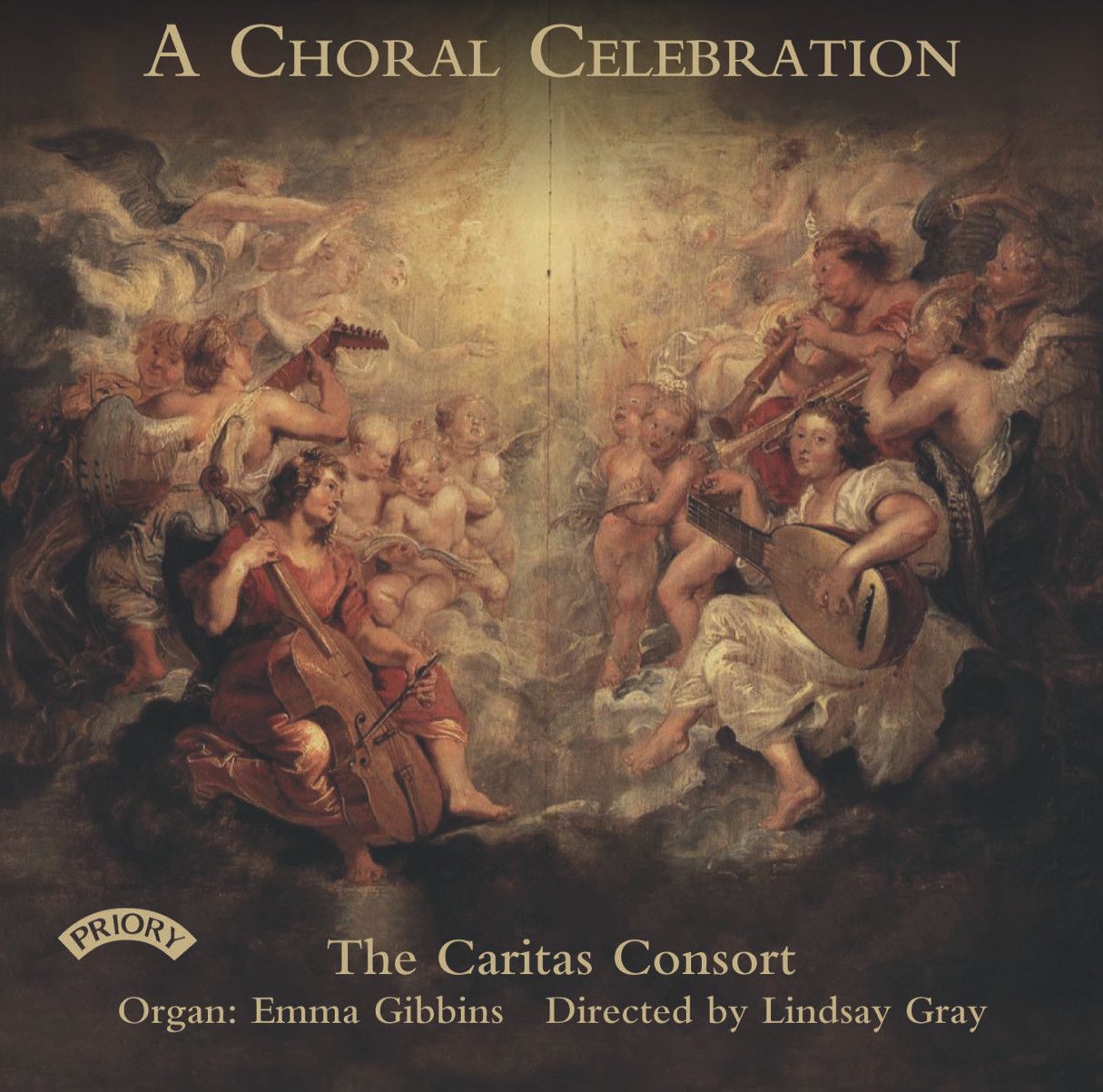 The Caritas Consort are pleased to present their debut recording released in November 2018 with Priory Records. Recorded in the beautiful St Augustine's Church, Penarth, the CD showcases the Consort's varied range and talent with a selection of choral works from across the centuries. The full track listings can be found below.
A Choral Celebration marks the choir's fifth anniversary and celebrates their efforts in raising over £35,000 for charitable causes - for the latest amount raised, see our Past Concerts & Fundraising page. In keeping with the objectives of Caritas, all profits from the CD sales will be donated to charitable causes, details of which are below.
The choir would like to express a heartfelt thank you to the generous sponsor who helped us to celebrate our fifth anniversary with the recording of our debut album.
The CD is on sale now at £10 plus p&p (£1.99) and can be purchased at any of our upcoming concerts (cash or card accepted).

If you aren't able to make it to our concerts, simply fill in the form below to purchase a CD through us directly. We will send you an email with details of how you can pay by bank transfer and we will post the CD out to you. Postage and packaging is £1.99 (UK postage only) and this is price remains at £1.99 for up to 10 CDs. If you are outside of the UK and would like to purchase the CD, please contact us on [email protected] to discuss postage options.
If you have any questions about the CD, please see our FAQ page or send us an email on [email protected].
Here is a preview of one of the tracks from our debut CD
Charities supported through CD sales
All money received from our CD sales is donated to the charities we support through our concert programme. You can see which charities we have supported on our Past Concerts page.
Terra tremuit - William Byrd (0:51)
If ye love me - Thomas Tallis (1:58)
Caligaverunt oculi mei - Tomas Luis de Victoria (3:30)
Jehova, quam multi sunt hostes mei - Henry Purcell (6:54)
The rising world Jehova crown'd - George Frederic Handel (3:35)
Ave verum corpus - W. A. Mozart (2:48)
Locus iste - Anton Bruckner (2:35)
Hear my prayer - Felix Mendelssohn (11:08)
Glorious things of thee are spoken - Cyril Taylor/descant Lindsay Gray (3:24)
Greater love hath no man - John Ireland (5:58)
Jubilate (Collegium Regale) - Herbert Howells (3:19)
Benedicamus Domine - Peter Warlock (1:35)
Love divine all loves excelling - William Lloyd Webber (4:53)
Sol justitiae - Alec Roth (3:23)
Not in lordly state and splendour - Lindsay Gray (3:06)
Steal away - Arr: David Blackwell (4:26)
Jesu lover of my soul - Joseph Parry/ descant Lindsay Gray (2:52)
A Priory Records Digital Recording
Recorded and Produced by Neil Collier
Digital Editing: Paul Crichton
Recorded in St. Augustine's Church, Penarth on 22/23 August 2018
Organ: Emma Gibbins
Directed by Lindsay Gray