May the Spirit Sing in your Heart - Thomas Hewitt Jones
Lindsay Gray, founder and director of Caritas, is celebrating his 70th Birthday on 22nd July 2023. Susanna Gray-Jones, Lindsay's daughter, commissioned a new choral work to mark this special day and we're thrilled to share it with you here. Susanna invited her long-time friend, the talented composer Thomas Hewitt Jones to write a piece for the occasion; combining forces with the well-known writer Gordon Giles in respect of the lyrics, the two have created a beautiful work 'May the Spirit Sing in your Heart' which is a fantastic addition to the Caritas repertoire; we would like to thank Thomas and Gordon warmly for all they've done towards this project and we're looking forward to being able to sing the anthem for you live in our next concert on 18th November in Llandaff Cathedral.
Susanna Gray-Jones says, 'The anthem's soaring melody aims to reflect and celebrate the contribution Lindsay has made to choral music, both as a singer himself, choral conductor and in his various roles as a headmaster and as a former director of the Royal School of Church Music. The poignant words by Gordon Giles, Canon Chancellor of Rochester Cathedral, reflect on music, faith and spirituality and we hope will make an enjoyable and meaningful liturgical anthem, as well as being hopefully fun to sing. I'd like to thank my Dad for being an incredible father - for me that includes being my singing coach, headteacher, cricket bowling coach, business support advisor, choir director, counsellor and grandfather to our children. Happy 70th birthday Dad!'
The music is available via YouTube, Spotify and other streaming networks.The sheet music is available from Encore Publications: www.encorepublications.com
With the release of May the Spirit Sing in your Heart, Caritas will be fundraising for the Cardiff Branch of Samaritans. Samaritans is a charity working across the UK and Ireland and their vision is that fewer people die each year by suicide. They are there for anyone struggling to cope - day or night, 365 days a year. They take action to prevent people reaching crisis point, helping people find ways to cope and learn the skills to be there for others. They need your support to make this a reality so if you are able to make a donation via the link below we would be hugely grateful.
https://samaritanscommunity.enthuse.com/pf/caritas-consort
All My Hope on God is Founded - Howells
We bring to you three verses of the hymn 'All my hope on God is founded' recorded very recently in St German's Church, Cardiff. The superb tune was composed by Herbert Howells who named it 'Michael' after his son who tragically died aged nine having contracted polio during a family holiday. The descant used here in verse 3 was composed by our Director, Lindsay Gray, for the funeral of Valerie Donkin on 21st April this year. Valerie was the mother of Caritasian Becky who is singing on this recording. We send our warmest wishes to Becky and her family as we remember Valerie in this hymn which she particularly loved and which was sung at the start of the funeral service.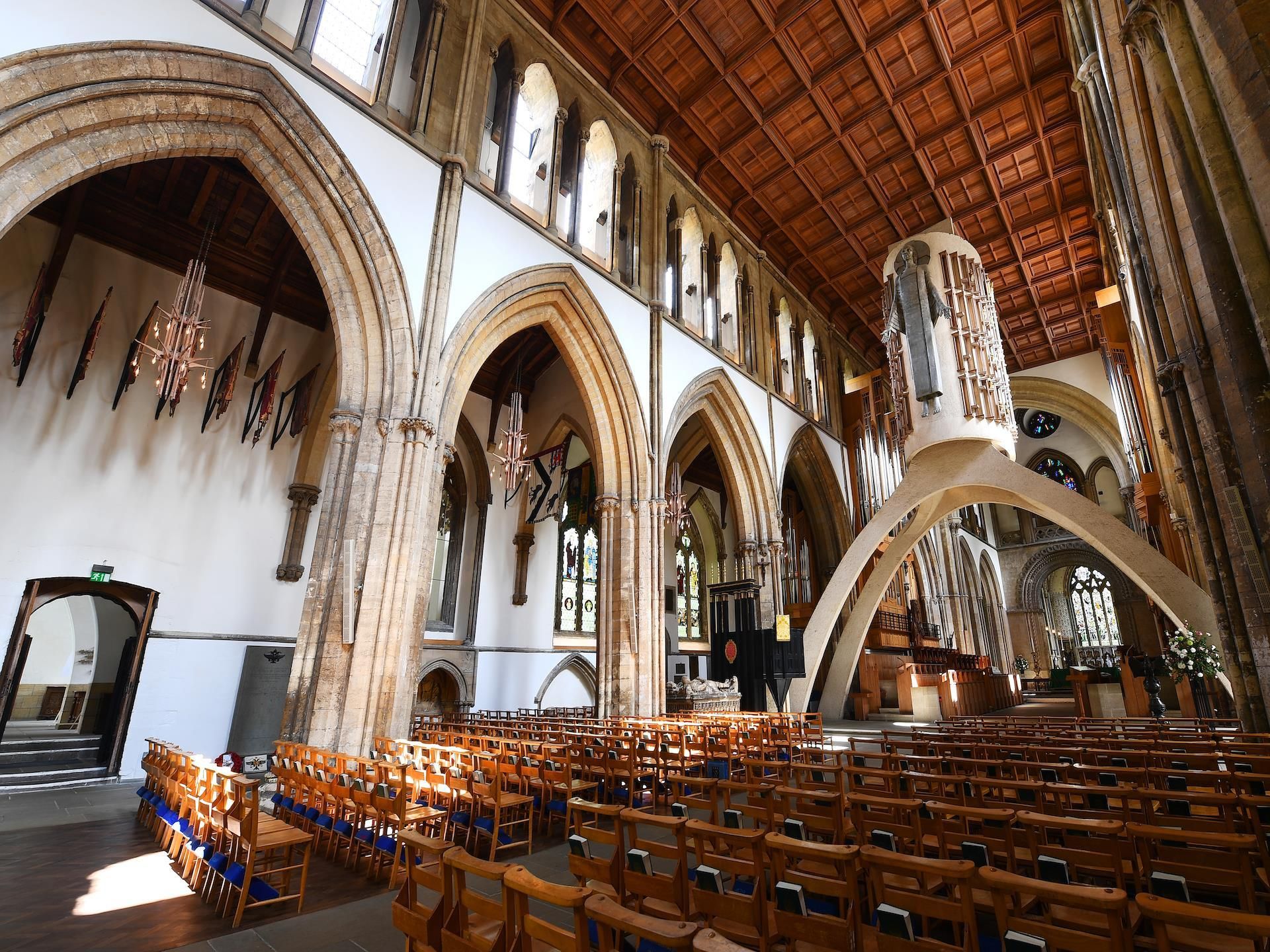 Save the date: Saturday, 18th November
We shall be returning to Llandaff Cathedral for another special concert in this 10th anniversary year of Caritas.
Please place this date in your diary as we would love to see you there!
In the meantime, we have been busy recording some of our favourite repepertoire and new arrangements, all of which you can hear on our YouTube Channel: www.youtube.com/@caritasconsort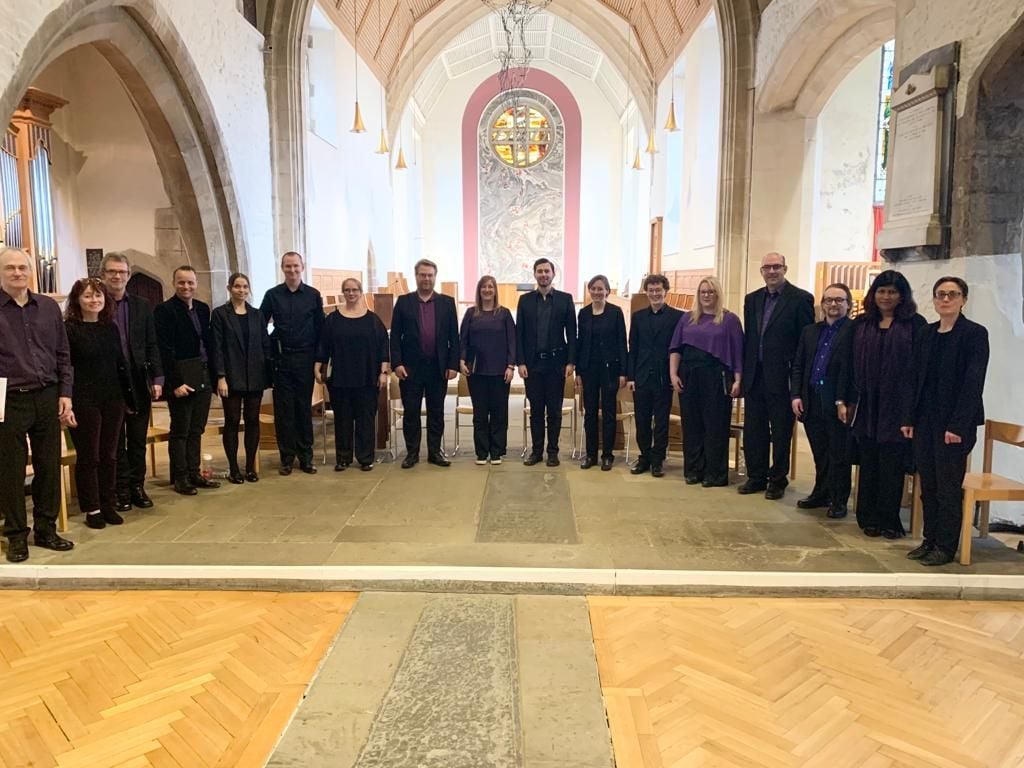 £1,300 raised at Newport Cathedral
It was really good to see so many at our concert in Newport Cathedral yesterday; it's great to report that we raised a total of £1,300 through ticket sales and donations, of which £1,100 will go to the Eden Gate charity and £200 to Newport Cathedral.
We should also add that everyone at the Cathedral was wonderfully welcoming and helpful; there was a tremendous welcome from the Dean, Ian Black, and we really enjoyed working with the Cathedral's Director of Music, Emma Gibbins, once again. Thank you also to Phae, Lou and Jen at the Cathedral for all they did for us on the day.
More information on our summer concert will follow as soon as possible - and please keep 18th November (afternoon ) free for our return to Llandaff Cathedral!
O Sacred Head, Surrounded - J.S. Bach
At this time in the Church's year we bring you one of J.S. Bach's beautiful chorale settings from his 'St Matthew Passion', recorded this week at a rehearsal in the lovely Nazareth House, Cardiff: 'O Sacred Head, surrounded'.
You'll be able to hear us perform this piece (and many others) if you come to our concert in Newport Cathedral on the 25th March.
Book your tickets now using the button below!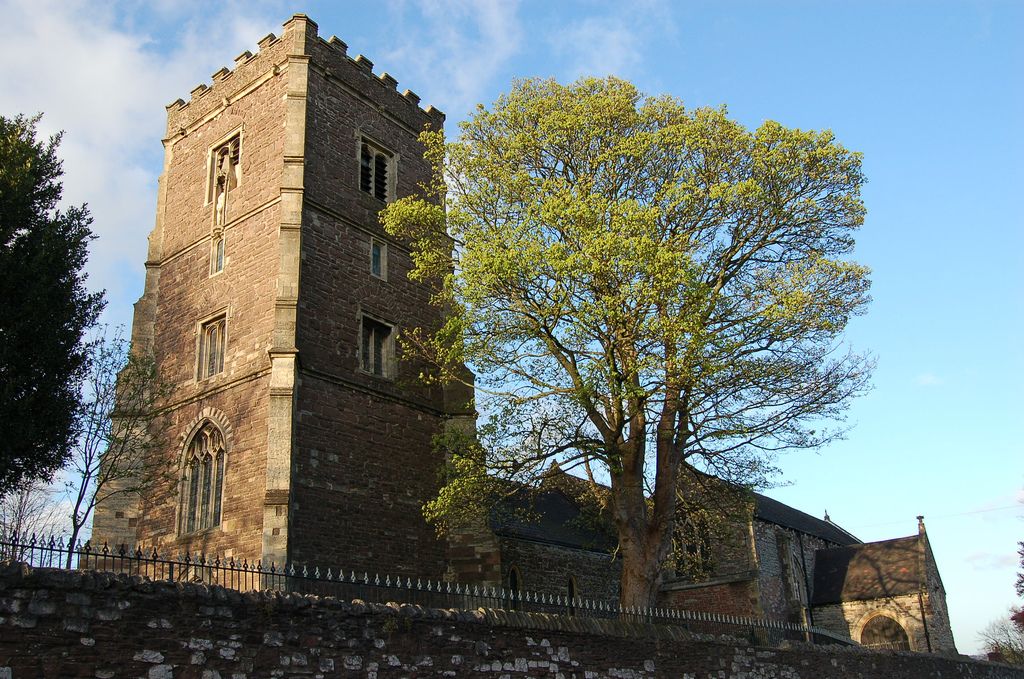 Caritas 10th anniversary: Newport Cathedral
Saturday 25th March, 3:00. pm
Newport Cathedral
Tickets £15.00 (students & children £5.00) including tea and cake after the concert

To celebrate ten years since we created Caritas we are giving concerts at three cathedrals in South Wales this year, beginning with the lovely setting of Newport Cathedral on Saturday 25th of March at 3:00 pm.
We have a great programme for you, incorporating sacred and secular music from the Renaissance to the present day, with music by Victoria, Schütz, Stanford, Holst, Macmillan and Lennon & McCartney.
In addition, we are delighted that Emma Gibbins, DIrector of Music at the Cathedral, will be playing two organ pieces for us, including a spectacular arrangement for organ of the very popular Danse Macabre by Saint-Saëns!
Our chosen charity will be Eden Gate, a wonderful charity based in Newport which supports homeless people. This is a great cause, particularly at the current time when, alas, far too many people do not have a home of any kind.
We look forward to seeing you!