Caritas, Latin for 'charity', is a chamber choir based in Cardiff. We perform a range of music, unaccompanied or with organ, from the Renaissance period to the present day.
Formed of professional and other high-quality singers, all members give of their own time and aim to raise at least £1000 per performance for charitable organisations and good causes.
Since our first performance in March 2013 we have put on 42 concerts and events, building a large and wide-ranging repertoire of around 300 pieces as well as raising over £50,000 for 58 charities and other good causes.
Please explore our website where you can find out about the choir, watch recordings, view our full list of repertoire and more...
Caritas reaches £50,000 fundraising mark!
Thank you to all who came to our concert at the Cardiff Oratory on Saturday 23rd October. Together with our special guests, The Daffodil Ensemble, we went on a musical tour of Europe. It was a very special occasion and £1200 was raised for two charities - which brings our fundrasing total over 8 years to the £50,000 mark. In 42 concerts 58 charities have received funding from Caritas - congratulations and thanks to everyone involved!
Looking ahead, please save the date: Wednesday, 15th December at 7.30 p.m. when we shall be bringing you a great programme of Advent and Christmas music - with some carols for you to join in, as ever. More details will follow re venue and tickets; we would love to see a large number of people with us on this occasion to celebrate 'The Return of Caritas' this year and the fundraising total achieved.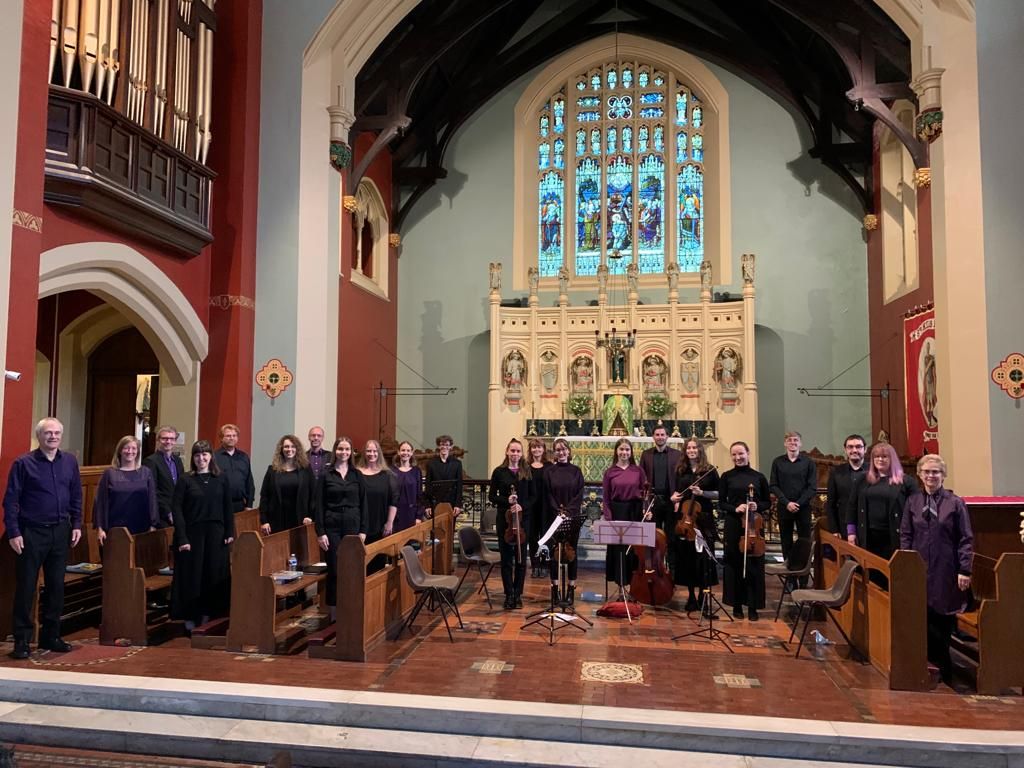 Join us on a musical tour of Europe
Saturday 23 October 2021, 2.30 p.m.
Tickets: £12 or £15 with a raffle ticket
The Cardiff Oratory - St Alban on the Moors, Swinton Street, Cardiff, CF24 2NT
While overseas travel may be difficult these days, for one afternoon you can join Caritas on a journey around Europe through a collection of beautiful choral music. Together we shall go to Estonia with Arvo Pärt, Germany with the great George Frederic Handel, Spain with Alonso Lobo, and further.
For this special expedition we will be bringing along our extra special guests, The Daffodil String Ensemble, with whom we are thrilled to be in collaboration in the impressive Credo by the Italian composer Antonio Lotti and the stunning Let the bright seraphim by Handel.
All money raised will support the Welsh Schools Athletics Association and St Alban Oratory School.
As a taster for the concert, below is the final section of Arvo Pärt's beautiful work The Deer's Cry which we are looking forward to performing in full; we recorded this extract at the final rehearsal just before our March 2020 concert in St Martin's Roath which had to be cancelled at short notice due to the first lockdown.
We very much hope to see you on 23rd October!
Thank you SO much to those who attended our concert on 30 June. For our first concert since December 2019, it was wonderful to be back singing again to a full audience. It was a very special occasion, without doubt, and we were delighted to raise £1,300 for the charity Llamau (www.llamau.org.uk) which helps vulnerable people across Wales to gain the skills to live independent and purposeful lives in their communities.
We're very grateful to so many people for their help with this concert, including Father Irving, Tim Hill and Andrew Williams of St Martin's; Natasha and Elinor from Llamau and, of course, every single choir member, as well as David our organist.
For those who were unable to join us, please enjoy this recording of Byrd's 'Ne irascaris Domine' which we recorded during one of our rehearsals for the concert in St Martin's Church. To hear about our upcoming concerts, sign up for our email list on our Contact page.