Caritas, Latin for 'charity', is a chamber choir based in Cardiff. We perform a range of music, unaccompanied or with organ, from the Renaissance period to the present day.
Formed of professional and other high-quality singers, all members give of their own time and aim to raise at least £1000 per performance for charitable organisations and good causes.
Since our first performance in March 2013 we have put on 42 concerts and events, building a large and wide-ranging repertoire of around 300 pieces as well as raising over £50,000 for 58 charities and other good causes.
Please explore our website where you can find out about the choir, watch recordings, view our full list of repertoire and more...
Special feature at our upcoming concert
We are delighted to tell you about a special, extra feature in our forthcoming Caritas concert at The Cardiff Oratory on 15th December.
Owen Hurrell, a pupil of Caritasian Sue Welch and a chorister at Llandaff Cathedral, has reached the final of the national BBC 'Chorister of the Year' competition. This is a superb achievement for Owen, Sue and all involved, so we have invited Owen to come along and sing a piece at the concert, an invitation which he has enthusiastically accepted!
An additional feature which creates further synergy is that Owen's father, Bruce, volunteers for the Cardiff Foodbank, the charity which we are supporting at this concert; and it so happens that Bruce's fellow volunteer at the Foodbank is Caritasian Rhiannon Youssef! Bruce will be receiving guests at the door and saying a few words during the concert about the Foodbank.
If you haven't yet bought tickets for this concert and would like to join us we would love to see you. Book tickets now using the button below.
Wednesday 15 December 2021, 7.30 p.m.
Tickets: £12 / £6 children & students / £15 with a raffle ticket
The Cardiff Oratory - St Alban on the Moors, Swinton Street, Cardiff, CF24 2NT
Celebrate Christmas with Caritas
Wednesday 15 December 2021, 7.30 p.m.
Tickets: £12 / £6 children & students / £15 with a raffle ticket
The Cardiff Oratory - St Alban on the Moors, Swinton Street, Cardiff, CF24 2NT
We are delighted to invite you to our concert 'Christmas with Caritas' in the beautiful setting of The Cardiff Oratory, St Alban-on-the-Moors. Book your tickets now by clicking the button below.
All of the proceeds will go towards Cardiff Foodbank, a charity which does much wonderful work to support families in need across the city.
We very much hope to see you at what will be our first Advent / Christmas concert for two years.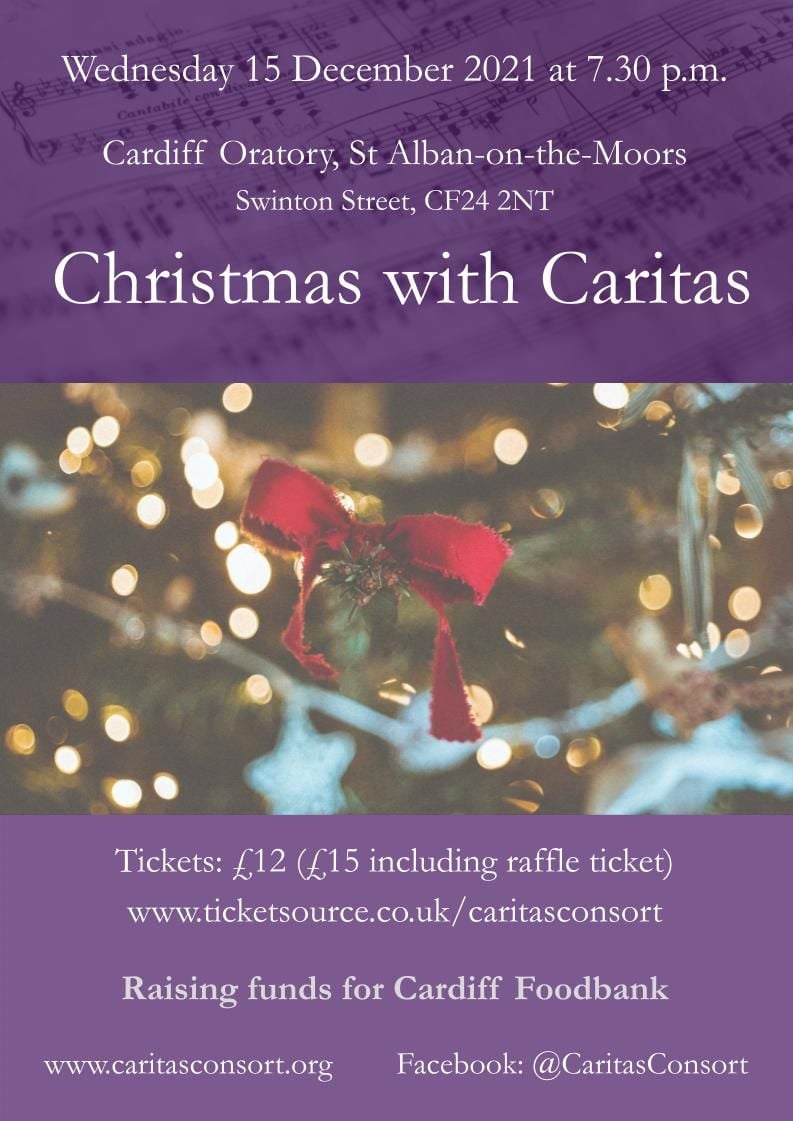 Caritas reaches £50,000 fundraising mark!
Thank you to all who came to our concert at the Cardiff Oratory on Saturday 23rd October. Together with our special guests, The Daffodil Ensemble, we went on a musical tour of Europe. It was a very special occasion and £1200 was raised for two charities - which brings our fundrasing total over 8 years to the £50,000 mark. In 42 concerts 58 charities have received funding from Caritas - congratulations and thanks to everyone involved!
Looking ahead, please save the date: Wednesday, 15th December at 7.30 p.m. when we shall be bringing you a great programme of Advent and Christmas music - with some carols for you to join in, as ever. More details will follow re venue and tickets; we would love to see a large number of people with us on this occasion to celebrate 'The Return of Caritas' this year and the fundraising total achieved.